Bagel Brunch: Brain Healthy Breakfast
June 2 @ 9:30 a.m. - 11 a.m.
Event Navigation
Join us as Clinical Nutrition Manager, Anzeribiam Akum shares information about the ideal foods to eat for breakfast during the summer, to optimize your brain health. Learn how some food groups can help you to focus and think more clearly and what makes those foods so special for your nutritional health. She'll also discuss some easy strategies to incorporate these Brain Foods into your daily eating plan.
About the Speaker: Anzeribiam Akum, MS, RDN, LDN, Clinical Nutrition Manager, Charles E. Smith Life Communities
Originally from Ghana, Anzeribiam received her Bachelor's Degree in Community Nutrition before continuing on for her Master of Science in Nutrition and Dietetics alongside a Coordinated Program in Nutrition.  Anzeribiam is credentialed by the Commission on Dietetic Registration and licensed by the Maryland Department of Health and Mental Hygiene. She is also a member of the Academy of Nutrition and Dietetics, the Maryland Academy of Nutrition and Dietetics, and Dietitians in Healthcare Communities.
Bagel Brunch to include a variety of brain healthy foods!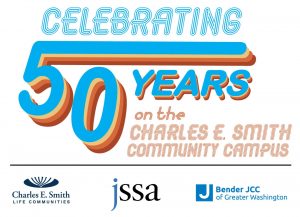 Following the Bagel Brunch, just us for our 50th Anniversary Campus Celebration
The celebration will be held in the lower parking area at the Bender Jewish Community Center.
Complimentary entertainment and cupcakes, games and activities for kids!
Thank you to the following sponsors: