A Discussion with author Barry Weinberg
December 9 @ 2 p.m. - 3 p.m.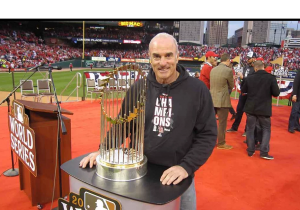 Join us as we welcome author Barry Weinberg as he shares his experiences from his new book, Eating My Way Through Baseball.
Barry's motto is "Everyday is a Holiday, Every Meal is a Banquet!"
Barry shares behind-the-scenes experiences from his professional baseball career along with his reviews of favorite restaurants and meals from his years of travel across the country. Barry has loved baseball since he was a young boy growing up in Silver Spring, Maryland. He spent more than forty years working as an athletic trainer in professional baseball from the minor leagues to the World Series. Barry has worked with the Pittsburgh Pirates, New York Yankees, Oakland A's, and St. Louis Cardinals.
As you will see from the first sentence of his book – Barry can't cook – nor does he try. He has eaten out for more than forty years and that includes breakfast, lunch and dinner.
Barry's baseball accomplishments include:
• 14 Major League baseball post seasons
• Oakland A's World Series Championship 1989
• St. Louis Cardinals World Series Championships 2006 and 2011
• Major League Baseball All Star ATC 1987, 1993, 2005, and 2009
• Inductee of the Washington DC Jewish Sports Hall of Fame
Register today for this entertaining discussion. If you would like to purchase Barry's book, use this link to get your discount.