Age of Love Movie Screening and Panel Discussion
February 15 @ 2 p.m. - 4 p.m.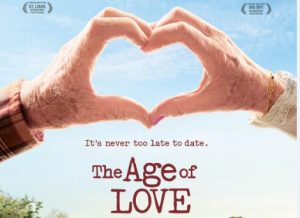 THE AGE OF LOVE follows the humorous and poignant adventures of thirty older adults who sign up for a first-of-its-kind speed dating event exclusively for 70- to 90-year-olds. From anxious anticipation through the dates that follow, it is an unexpected tale of brave older adults who lay their hearts on the line, and discover how emotional needs and desires change — or don't change — from first love to the far reaches of life.
Check out the film's trailer!
Following the film, we will have a discussion with the film's director, Steven Loring, and Amy Schoen, Professional Life Coach and Dating/Relationship Expert.
Steven Loring, the film's director, producer, cinematographer, and editor, received his MFA in Social Documentary Filmmaking from the School of Visual Arts in 2012. He focuses on films that examine the cultural and interior lives of unfamiliar and overlooked populations. His first film, 'SHACHARIT – A MORNING PRAYER', won several festival awards, including Best Student Film at the American Anthropological Association's 2012 Film Festival. Recently, he was Archival Researcher for Marshall Curry's Academy Award-nominated documentary 'IF A TREE FALLS'. As a screenwriter, Loring wrote eight Movies-of-the-Week for NBC, CBS and Lifetime, including 'THE OTHER MOTHER' with Frances Fisher and 'NO ONE WOULD TELL' with Fred Savage. A member of WGAeast, SAG and Actors Equity, Loring acted Off-Broadway and is a graduate of Wesleyan University with degrees in Organic Chemistry and Theater.
Amy Schoen is a nationally recognized dating and relationship expert since 2004. She's helped hundreds of marriage-minded individuals to find their lifelong mates. In 2005, Coach Amy became a certified life coach through the Coaches Training Institute. She then completed Relationship Systems training with The Center for the Right Relationship. Today, she is a Certified Professional Life Coach. She uses her whole life coach training and incredible life experiences to serve her clients. Amy's clients especially appreciate her empathy and approachable manner.