Ask The SmithLife Homecare Expert
July 2 @ 10:30 a.m. - 11:30 a.m.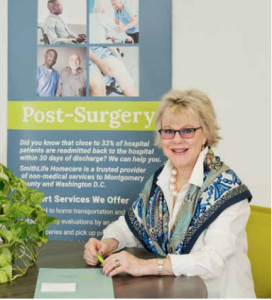 Join us for a webinar featuring Kathleen McGuinness, Director, SmithLife Homecare.
SmithLife® Homecare is a joint venture of Charles E. Smith Life Communities and Augustine Home Health Care, serving Montgomery County and Washington D.C.
McGuinness is a third generation Washingtonian. She started her career as an executive with a Fortune 500 company. After 20 years, she became a  senior leader with a foreign government in the British West Indies  where she stayed for 14 years. She has given talks globally, on a variety of topics, on radio and in person throughout the USA.
McGuinness cared for her parents for six years locally while they aged in place, until they could not. She entered the health care community as a consultant in 2015 and  joined SmithLife Homecare in early 2018.
She is currently serving our greater communities as:
EOL- Certified End of Life Specialist- Montgomery Hospice (1st Graduating Class 2019)
CDP- Certified Dementia Practitioner, CMP Certified Meeting Planner- Event Management
PFAC -Patient Family Advisory Council, Suburban Hospital, Johns Hopkins Medicine, Bethesda, Maryland
SAGE Gold Trained/Ally Advocate- LGBTQ Community
Montgomery County Correctional Facility: Women's Jail Section, 12 Step Recovery, 2x month speaker
Board of Directors, President/Chairperson Emeritus for WSRG, non-profit serving 12 Step Communities
Board of Directors, Chevy Chase@Home, non-profit Village, serving older adults Aging in Place