Be Well, Do Good: Self-Care and Renewal for Nonprofit Professionals
October 19 @ 8:30 a.m. - 10 a.m.
Event Navigation
We are delighted to welcome Lauren Brownstein, President, Pitch Consulting and author of Be Well, Do Good: Self-Care and Renewal for Nonprofit Professionals and Other Do-Gooders.
Space is limited as this is designed to be a small interactive workshop. This event is being underwritten and we are now able to offer this at no charge. Those that paid the registration fee will be refunded.  You must register by October 6 to receive a book at the event. Brownstein's book which will be used during the presentation. This event will not be recorded.
Be Well, Do Good is designed to inspire and includes Brownstein's observations from three decades of work in the nonprofit space and a lifelong commitment to studying and teaching wellness practices… delivered with candor and a dash of humor. Brownstein has designed this book to be thought provoking, inspiring, and customizable. Throughout her presentation, she will reference the book and encourage you to use the worksheets.  Be Well, Do Good thereby becomes a launchpad for new ideas and a personalized guidebook.
A thriving nonprofit workforce elevates the common good. Nonprofit organizations need their professionals to perform at peak levels, inspire others, maintain relationships with community members, and achieve "reach goals." There are many techniques that nonprofit professionals can do to maintain their own wellbeing, resilience, and happiness on the job.
Mindfulness techniques, scheduling tweaks, reframing professional relationships, finding renewed inspiration, building supportive networks… these and other strategies can improve calm, focus, energy, and drive, while leaving nonprofit professionals feeling more invigorated and inspired.
With this collection of stories, strategies, and worksheets, nonprofit professionals will:
Discover practical approaches to cultivating calm
Consider ways to prioritize what matters and let go of what doesn't
Plan micro-steps for better health and greater joy
Reframe self-care as not just an option, but an essential priority for personal wellness and professional performance
The program will include
A brief, introductory overview of Be Well, Do Good.
A few short readings from the book followed by discussion.
A facilitated writing exercise.
An open discussion of wellness strategies.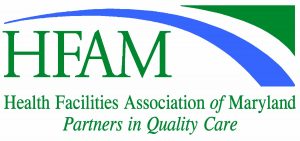 HFAM is authorized by the Board of Social Work Examiners in Maryland to sponsor social work continuing education learning activities and maintains full responsibility for this program.  This training qualifies for 1 Category 1 continuing education units.
Thank you to the following sponsors: