CESLC Insider: Your Fall-Free Future
November 16 @ 12 p.m. - 1 p.m.
Speaker: Leta Kant PT, RAC-CT – Clinical Manager, Select Rehabilitation
This program will provide education on how to reduce the risk factors of a fall. Kant will focus on the key factors to acknowledge in preventing a fall and what you can do on a daily basis to reduce your chance of a fall. Kant will discuss the intrinsic and extrinsic factors related to falling and which are controllable.
Leta Kant is a graduate of University of Tennessee with 40 years of clinical and operational experience working with all ages in a variety of settings. During the past eleven years, Kant has worked exclusively with geriatrics in skilled nursing facilities. She has provided extensive education with regards to Seating & Positioning, Fall and Neurodevelopment Techniques and various other clinical topics.
Kant has been an active member of the American Physical Therapy Association (APTA), including the Geriatric Section and member of Rehabilitation Engineering and Assistive Technology Society of North America (RESNA). She holds certification in Neurodevelopment techniques (NDT) with adults, received her Assistive Technology Practitioner (ATP) certification in 2008 and completed her Resident Assessment Coordinator (RAC-CT) Certification Program in 2019.
Objectives
1. Learn why older adults may be more prone to falls.
2. Understand the definition of a fall.
3. Identify risk factors that contribute to falls.
4. Discuss preventable strategies to reduce falls.
5. Implement appropriate interventions to improve balance and strength.
6. Identify therapy's role in reducing fall.
7. Where to begin in a fall awareness and prevention.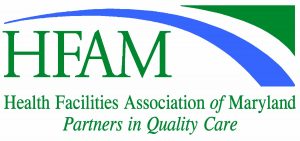 HFAM is authorized by the Board of Social Work Examiners in Maryland to sponsor social work continuing education learning activities and maintains full responsibility for this program. This training qualifies for 1 Category 1 continuing education units.
Thank you to the following sponsors: