Creative Aging: Enhancing the Lives of Older Adults through Arts Education
August 16 @ 1 p.m. - 3 p.m.
Event Navigation
Instead of viewing aging through the lens of deficit and decline, those in the creative aging field are working to reframe the conversation to see aging as a time of expression, growth, and potential. Join the ElderSAFE Center for this interactive webinar on creativity and aging.

Lifetime Arts, a national nonprofit arts service organization, will provide an orientation on history and background of the creative aging field, different areas of practice, and the cross-sector nature of the work. Attendees will learn about the considerations and first steps to bring creative aging activities to their own organizations and communities.

Next attendees will learn about See Me at the Smithsonian, a free interactive program for adults living with dementia and their care partners. The presenters will discuss the mission and history of the See Me program as well as its benefits, including how creativity can offer respite for anyone. Using case examples, they will demonstrate how creative activities – and especially creative aging – can support a more engaged approach to life for older adults and their families.
Speakers:
• Maura O'Malley, Co-Founder and CEO, Lifetime Arts
• Nathan Majoros, Deputy Director for Programming & Operations, Lifetime Arts
• Amy Castine, Lead Educator, See Me at the Smithsonian, Access Smithsonian
• Samantha Handler, Community Outreach Coordinator, Access Smithsonian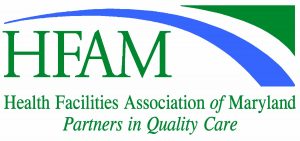 HFAM is authorized by the Board of Social Work Examiners in Maryland to sponsor social work continuing education learning activities and maintains full responsibility for this program. This training qualifies for 2.0 Category 1 continuing education units.
Thank you to the following sponsors: