Culinary Explorations
January 28 @ 2 p.m. - 3 p.m.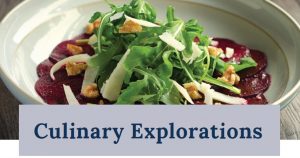 Join us for Culinary Explorations, our Zoom culinary series featuring our own world-class chefs.
Starting in January, our chefs will present two to three easy recipes that you can add to your repertoire.
Kick off the new year with January's delicious recipes, perfect for warming up those cold winter nights.
January Culinary Menu
Kosher Twist & Plant-Forward Focus
Filet Mignon Wrapped in Turkey Bacon
Spinach, Beet and Walnut Salad
· Blueberry Crisp
A Tasty Temptation: Everyone who joins us for Culinary Explorations will be entered in a drawing for a gift card. The winner will be drawn at the end of the presentation.