Cyber Security For Professionals: How To Maximize Data Security and Client Protection
February 13 @ 8:30 a.m. - 10:30 a.m.

Please join us as we welcome Rick Dreger, President, WaveGard, Inc., a cybersecurity firm empowering businesses to protect their most sensitive data. With decades of experience, Dreger has crafted custom security solutions for Fortune 100 companies, hospitals, international law firms, and dynamic midsized businesses. Rick has contributed to Information Week, co-authored a McGraw Hill wireless security book, hosted numerous cybersecurity presentations, and teaches the capstone course for the Certificate in Cybersecurity Strategy Program at Georgetown University. He is on the board of HealthCare Access Maryland (HCAM), a non-profit organization focused on helping Maryland's most vulnerable residents by providing innovative population health, behavioral health, and care coordination services.
Dreger will discuss common cyber scams, how to build prevention techniques to mitigate their impact, and how professionals can better protect client assets. Following Dreger's presentation, there will be a panel discussion, moderated by Howard Tischler, Co-Founder and President, EverSafe and including Sarah Kaplan, CFP®, RHU, AIF®, of Kaplan Financial Group and Mike Volk, Cyber Specialist with PSA Insurance and Financial. The panel will focus on what professionals can do to limit liability due to cyber financial exploitation and answer audience questions.
Complimentary self-parking. Buffet breakfast will be served.
The CFP Board has approved this course for 1 CE credit.
Online registration is closed. Please call 301-770-8329 if you are interested in attending.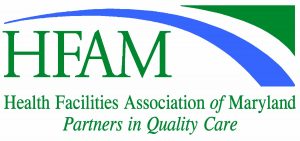 This program is sponsored by the Health
Facilities Association of Maryland and
is approved by the Maryland Board of
Social Workers for two Category 1.5
Continuing Education Credits (CEUs)
Thank you to the following sponsors: