Exploring the Role of Animals in Elder Abuse Cases: How Pets Are Used to Both Harm and Heal
April 15 @ 1 p.m. - 3 p.m.
Cases of animal abuse, cruelty and neglect have historically been considered isolated incidents and separate from other forms of family violence. However, professionals and researchers are beginning to understand the strong link between animal abuse and other forms of violence, including elder abuse. This webinar will explore the strong connection between animal abuse and elder abuse, neglect, and financial exploitation. The webinar will discuss the importance of cross-training and building local partnerships between victim service and animal welfare organizations. Attendees will learn how to better support older adult clients, including the promising practice of animal-assisted therapy for older adults and trauma survivors.
This webinar will take place at 1pm EST / 12pm CST / 11am MST / 10am PST.
This webinar is designed for professionals in the aging service field, Adult Protective Services, domestic violence field, and those in the animal welfare field.
Speakers:
Phil Arkow is a national expert on human-animal interactions and violence prevention. He is the coordinator and co-founder of National Resource Center on the Link Between Animal Abuse and Human Violence. He chairs the Latham Foundation's Animal Abuse and Family Violence Prevention Project. He is co-founder of the National Animal Control Association, and the Colorado and New Jersey humane federations. He has served with the American Veterinary Medical Association, the American Society for the Prevention of Cruelty to Animals, American Humane, the Delta Society, the Animals & Society Institute, the National Sheriffs Association, the National Coalition on Violence Against Animals, the National District Attorneys Association, the Academy on Violence & Abuse, and the American Association of Human-Animal Bond Veterinarians.
Gina Kazimir is the Executive Director of Pets on Wheels, non-profit organization that brings the joy of friendly pet therapy to nursing homes, hospitals, assistive home facilities, homeless and domestic violence shelters, and libraries.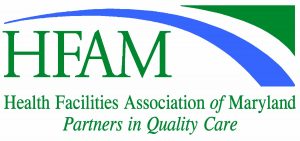 HFAM is authorized by the Board of Social Work Examiners in Maryland to sponsor social work continuing education learning activities and maintains full responsibility for this program. This training qualifies for 2 Category 1 continuing education units.
Thank you to the following sponsors: