Join us from your home and enjoy a discussion with Pati Jinich
October 29 @ 7:30 p.m. - 8:30 p.m.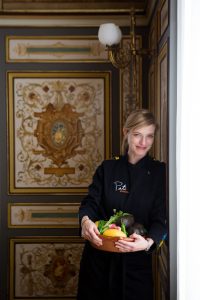 While we can't gather together to mingle and network, we can still virtually meet to enjoy a discussion with Pati Jinich, host of the two-time James Beard Award-winning and three-time Emmy nominated PBS television series "Pati's Mexican Table" now going on its ninth season. The series is widely distributed in the US through PBS and streamed worldwide on Amazon Prime.
Born and raised in Mexico City, Jinich is the resident chef at the Mexican Cultural Institute in Washington D.C. and author of two cookbooks, "Pati's Mexican Table: The Secrets of Real Mexican Home Cooking" and "Mexican Today: New and Rediscovered Recipes for the Contemporary Kitchen." Her third cookbook is slated to be published in the Fall of 2021.
A former political analyst focused on Mexican political institutions and US-Mexico relations at the Inter-American Dialogue, Pati holds a master's degree in Latin American Studies from Georgetown University. She switched policy papers for cooking pots to make exploring and sharing Mexico's cuisine her life's work.
Pati was invited to cook at the White House for President Obama's Cinco de Mayo and Easter celebrations. She was named one of the "100 Greatest Cooks of All Time" by Epicurious in 2017 and was profiled on the front page of The New York Times food section in October 2018 in the feature "Forget the Wall: Pati Jinich Wants to Build a Culinary Bridge to Mexico."
She is a member of Les Dames D'Escoffier, the International Association of Culinary Professionals, the Kitchen Cabinet for the Smithsonian Institution's National Museum of American History, and her company, Mexican Table, has been certified as a Women Owned Business by WBENC.
Pati is a regular guest on NBC's "Today Show," CBS's "The Talk," ABC's "Good Morning America," The Food Network, NPR's "All Things Considered" and "The Splendid Table," and Univision's "Despierta America." She has been featured in The Washington Post, Chicago Tribune, and other national and regional press.
Thank you to the following sponsors: