Maryland Guardianship and Disability Rights
April 12 @ 2 p.m. - 3 p.m.
Event Navigation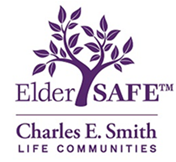 Charles E. Smith Life Communities and The ElderSAFE™ Center are pleased to present this informative program.
Guardianship is a complicated and drastic legal proceeding that results in a person losing fundamental rights and liberties.  This session will provide an overview of Maryland guardianship laws and court processes, and more importantly, less restrictive alternatives to guardianship.
Presenters:
Randi Ames
Randi Ames is a managing attorney with Disability Rights Maryland (DRM). Her team focuses on addressing barriers to community services for people with intellectual and developmental disabilities, educating client on available Medicaid benefits, and investigating reports of abuse or neglect in state facilities and provider owned and operated community settings. Prior to working for DRM  she was a staff attorney with Maryland Legal Aid's Long-Term Care Assistance Project, where she represented nursing facility residents facing involuntary discharges and Medicaid participants facing reductions and terminations of services. Outside of work Randi loves to spend time with her partner and 2 dogs and enjoys baking.
Nisa C. Subasinghe
Nisa C. Subasinghe is the Domestic & Guardianship Program Manager at the Maryland Judiciary's Administrative Office of the Courts. Her work focuses on issues affecting children and families who come through the court system. She staffs the Maryland Judicial Council's Domestic Law Committee its Court Process, Custody Evaluator Training & Standards, Domestic Forms, Family Law Bench Book, Guardianship & Vulnerable Adults, Legislative, LGBTQ+ Family Law, and Special Status workgroups. She also provides training and technical assistance to judges, magistrates, court staff, attorneys, and others who handle domestic, guardianship, and related matters and has lead staff responsibility for the Maryland Judiciary's guardianship reform efforts. Prior to joining the Maryland Judiciary, Nisa served as a crime victim advocate. She is a graduate of The Catholic University of America Columbus School of Law.
The webinar has been approved for 1.5 Category 1 CEU Credits  by the Health Facilities Association of Maryland (HFAM) for participants that complete the entire webinar. If possible can you please include State/City/County in the registration data.