Recharge and Connect: A Yoga Workshop for Caregivers
November 17 @ 2 p.m. - 3 p.m.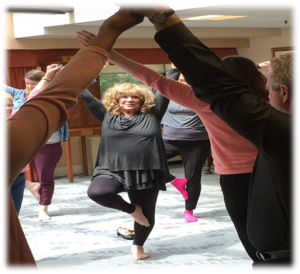 In honor of National Family Caregiver's Month, the ElderSAFE Center will host a free virtual yoga workshop for caregivers.
The class will be led by yoga instructor and Silver Spring native, Cheryl Kravitz. She has a special interest in working with individuals with dementia and their caregivers. Cheryl will lead caregivers through a gentle practice designed to reduce stress, fear, and agitation by teaching relaxation breathing, and incorporating moderate movements that can be adapted to the individual.
The workshop will end with a discussion on additional community resources to support caregivers.
Visit her website to learn more about Cheryl and her personal experience as a family caregiver.