Stupid Things I Won't Do When I Get Old with author Steven Petrow
November 11 @ 6 p.m. - 7 p.m.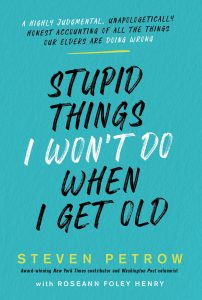 The adage "You're only as old as you feel" was recently confirmed by The Yale School of Public Health. Their new study showed that when older people assimilated ageist tendencies, they had a shorter life expectancy. With hundreds of inspiring older role models – including luminaries Morgan Freeman, Ellen Burstyn, George Takai, and Erin Brockovich – the only enemy we have when it comes to growing old with vigor, grace, and purpose is not believing we can.
 STUPID THINGS I WON'T DO WHEN I GET OLD is part memoir and part manifesto. Shortly after his 50th birthday, Steven Petrow, who writes about aging issues for The Washington Post and The New York Times,  began confronting and correcting his ageist beliefs with a vow not to let life diminish or disappoint him as he makes his own journey forward. Armed with a list of "things I won't do when I get old," he humorously, honestly contrasts his parent's generational attitudes towards aging as well as their struggles, with his own experiences as he faces illnesses, creaking limbs, greying hair, dying friends, fear, and the loss of his parents. The list he wrote before they died had become a reminder to embrace the beauty, poignancy, and richness of his own life.
Petrow writes you should challenge the status quo of "what's acceptable at your age."  You can jettison the negative expectations of age with some planning, and a recalibration of your attitude. Why not wear whatever you want? Take that trip? Keep conquering new technologies? Continue expanding your social circle, and have friends of any age? Don't let any preconceptions about your life or what's expected of you hold you back. That's a stupid thing, at any age.
To order the book, click here and use promocode: PETROW10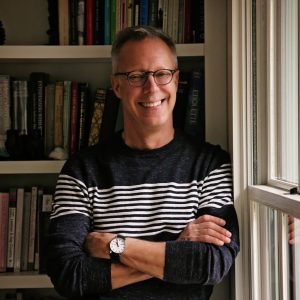 ABOUT THE AUTHOR:
Steven Petrow is an award-winning journalist and book author who is best known for his Washington Post and New York Times essays on aging, health, and civility. He's also an opinion columnist for USA Today, where he writes about civil discourse and manners. Petrow's 2019 TED Talk, "3 Ways to Practice Civility" has been viewed nearly 2 million times and translated into 16 languages.
Petrow is the author of five other books, including Steven Petrow's Complete Gay & Lesbian Manners. He's a much sought-after public speaker and is frequently heard on television and NPR. Petrow also has served as the host and executive producer of "The Civilist," a podcast from Public Radio International and North Carolina Public Radio WUNC.
A former president of NLGJA: The Association of LGBTQ Journalists, Petrow is the recipient of numerous awards and grants, including those from the National Endowment for the Humanities, the Smithsonian Institution, the Ucross Foundation, the Virginia Center for the Creative Arts, and the National Press Foundation. In 2017, he became the named sponsor of the Steven Petrow LGBTQ Fellowship at the VCCA, a prize that is awarded annually. Steven lives in Hillsborough, N.C. with his cocker spaniel, Binx Bolling.