The Power of Words
September 1 @ 12 p.m. - 1 p.m.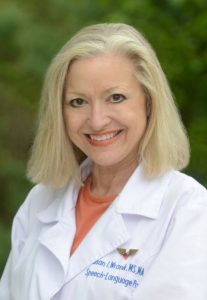 We communicate with each other every day. But it's not always what you say, but what others understand and how you make them feel that counts.
Join us as we feature Susan I. Wranik, MS, MA, CCC-SLP, national speaker, author, linguist and medical professional passionate about communication, quality of life, and giving voice to other people's voices. She began her career as a translator/interpreter for the Italian Ministry of Defense and later moved to clinical work as a speech language pathologist. Her firm, SpeakSkill LLC, brings together linguistic, cultural, and medical expertise to provide training and therapy in comprehensive communication skills enhancement.
Wranik is featured on a TEDx Talk, The Power of Words, developed of one of the first rehab dining groups for stroke recovery in the Washington, DC metropolitan area, as Director of Rehabilitation Services – Ingleside, Rock Creek, Washington, DC, developed a protocol for an inter-disciplinary approach to rehabilitation, and facilitates communication clubs for the Parkinson Foundation of the National Capital Area.