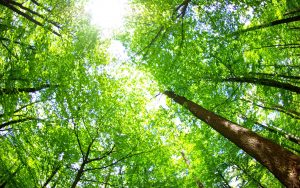 Today is Tu B'Shevat. Tu B'Shevat is a minor holiday that first appears in the Talmudic Tractate of Rosh Hashanah. We are told in this section that Tu B'Shevat is the New Year for Trees. This essentially means that it's the unified birthday for all trees, because who keeps track of each birthday of all their plants? When we had an agricultural economy this day was very important, but as we moved into the cities and modernized our income sources the day became less celebrated.
Towards the end of the 19th century, the Jewish people turned their hearts and heads back to the Promised Land. With Zionism came a rise in an interest in the celebration of Tu B'Shevat. This continues today with various special tree plantings in Israel and around the Jewish world. Indeed it has become Jewish Arbour Day. It should be no surprise that throughout our travels and transitions we have remained connected to nature. This idea goes all the way back to the beginning of the Torah, in the Book of Genesis. Almost as soon as God creates the first man, God tells him to "work and to guard [the land]" (Genesis 2:15). Thereby stating that our existence in this world is coupled with our extra responsibility to not only to rule over the world, but guard it.
At Charles E. Smith Life Communities, we provide elder care to over 1,000 residents – continuously earning a Five-Star Overall Quality Rating from the Centers for Medicare and Medicaid Services and recognition as a U.S. News 2019-20 Best Nursing Home and as one of Newsweek's 2020 Best Nursing Homes – anchored in our Jewish values.
In 2019, we began eliminating all plastic water bottles in our catering across campus and installed water fountains encouraging the refilling of reusable water bottles. Plastic water bottles are a huge problem for the entire world. Out of the 50 billion bottles of water bought each year, 80% end up in a landfill, even though recycling programs exist. To date, our efforts to reduce plastic waste have saved nearly 10,000 bottles of water. Of course, this is a small figure when compared to the rest of the world, but that doesn't mean we shouldn't try. As we are told elsewhere in the rabbinic teaching, "You are not obligated to complete the work, but neither are you free to desist from it (Ethics of Elders 2:21)."
Have a very Happy New Year…of the trees and the environment!