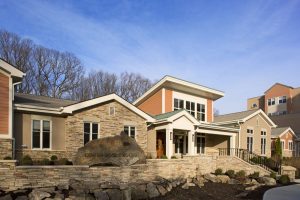 The Alzheimer's Association has designated June 2020 as Alzheimer's and Brain Awareness month. A progressive, debilitating disease, Alzheimer's primarily impacts older people. Since it currently has no cure, managing the symptoms and slowing the progression of the disease are the main focus of treatments. When a loved one reaches a point where increased care is necessary due to Alzheimer's or other forms of dementia, it is important to find a safe, supportive living environment. In Rockville, Maryland, Charles E. Smith Life Communities (CESLC) has award winning residences designed to provide outstanding memory care.
Take Action and Raise Awareness
During this month, the Alzheimer's Association challenges everyone to join in the fight against the disease, honor a loved one impacted by the disease and get involved. Wearing purple and sharing stories on social media with the hashtag #ENDALZ are ways to get involved and express support for the fight.
Understanding Alzheimer's
According to the National Institute of Aging, "Alzheimer's disease is an irreversible, progressive brain disorder that slowly destroys memory and thinking skills and, eventually, the ability to carry out the simplest tasks. It is the most common cause of dementia in older adults. While dementia is more common as people grow older, it is not a normal part of aging." Alzheimer's is one of the leading causes of death in older people. Careful planning for safety and care by the family of a loved one diagnosed with Alzheimer's includes close consultation with a geriatric care specialist, and preparation for the inevitable decline in faculties in the person suffering from the disease.
CESLC Residences Support the Memory Impaired
Cohen-Rosen House offers a family-style residence for older adults living with dementia. With private rooms located in a single-story building, Cohen-Rosen House provides memory care in a secure and supportive environment. Music, art, exercise and other activities with therapeutic benefits help the residents engage with each other and the community. Learn more about Memory Care at Cohen Rosen House.
In one of the largest nursing homes in the mid-Atlantic, Hebrew Home of Greater Washington (HHGW) also offers care for residents living with Alzheimer's and dementia. The long-term care team at HHGW has been recognized for the quality and compassion of their service to its residents. From social programming to care by our in-house medical team, HHGW provides a person-centered approach. With dedicated memory care units, HHGW specifically tends to the needs of the memory impaired. Learn more about Memory Care at HHGW.