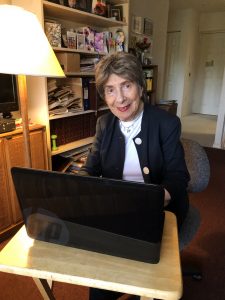 May was designated as Older Americans Month (OAM) to raise awareness about the needs of older Americans and to promote their contributions to society. According to the U.S. Department of Health and Human Services, Administration for Community Living (ACL), the theme for this year's OAM is "Make Your Mark," which "highlights older adults' unique and lasting contributions to their communities…" At Charles E. Smith Life Communities (CESLC), we join in recognizing the older Americans who have made their mark, including a Ring House resident, Mollee Kruger.
Among other accomplishments, Kruger is a poet, novelist and memoirist. Her latest memoir, Port of Call: Memories of an Ancient Mariner (available on Amazon), was published in 2020. A lifelong writer, she published her first novel in her 80s and plans to write a collection of short stories in the future. Asked about writing as an older American, Kruger said, "Although aging may slow us down, speed isn't important now."
She began writing memoirs as a long-time commitment to exploring the life and influence of her parents. In 1976, she featured her parents in Yankee Shoes, a poetic take honoring the American Revolution for its Bicentennial. As she tells it, "In Part 2 of that book, my immigrant parents appeared as fictitious characters, Clara and Fran. I wanted to write more extensively about them and promised myself that someday I would put them into a bona fide memoir. Thirty years later, I did just that in the 2010 coming-of-age book, The Cobbler's Last, followed a decade later in 2020 with Port of Call, which emphasized even more of their influence on my adult life."
Kruger has lived in Montgomery County for 70 years, and her ties to the community run deep. From helping commemorate the anniversary of the founding of Maryland to creating local productions of verse and music, Kruger has been contributing locally for decades. Among her many achievements, she has taught writing to older Americans and produced shows featuring older adult performers. Her poetry was part of a syndicated column published in the Washington Post and around the country for many years. CESLC has been home to Kruger for over a decade, and she is just one of our many creative, engaging residents.
For those older Americans considering writing themselves, Kruger has some excellent advice: "If you decide to plunge into memoir, fiction, or poetry, be courageous. You'll be faced with earlier life decisions you may have made against your better judgment in the past. But these thoughts may be the very thing with which the reader will identify. Include moments of insensitivity or recklessness and avoid making yourself the hero of every episode. In confronting your own faults and errors, you may even discover some sweetly comforting things about yourself that you were too young or too busy or too angry to notice at the time."
CESLC encourages the arts and creativity through a variety of programs for the residents across campus. To learn more about CESLC, contact us for a tour today.