Reverend Dr. Ann Marie Hunter visited Molly in the hospital to pray and provide solace after her Methodist congregation's unofficial community grandmother fell and broke her arm. It wasn't until three months later that she learned the real cause of Molly's accident – her grandson broke into her apartment, demanding drug money. When she said no, he pushed her so hard she fell and broke her forearm. "Now here I am, the pastor in a congregation. I know a lot about [domestic violence] at this point; it's not like I don't understand abuse, and I could not name this. I had no idea what I was looking at. This is going on under the radar, and people continue to suffer," Hunter said.
This January, the ElderSAFE™ Center at Charles E. Smith Life Communities hosted the kick-off event of a new yearlong interfaith pilot initiative. Supported in partnership with Safe Havens Interfaith Partnership Against Domestic Violence and Elder Abuse, a nationally recognized program on faith and elder abuse, this interfaith pilot project in the metro area connects faith communities to create sustainable links and to share best practices on elder abuse prevention and response.
Hearing Rev. Dr. Hunter's recollection of the abuse her parishioner Molly suffered, the representative lay and faith leaders from six religious communities nodded in unison, agreeing that these cases are all too frequent and familiar. According to Rev. Dr. Hunter, director of Safe Havens Interfaith Partnership Against Domestic Violence and Elder Abuse, and her associate director at Safe Havens, Alyson Morse Katzman, 11 percent of older Americans report experiencing elder abuse every year, which includes willful abandonment or neglect as well as physical, sexual, emotional, spiritual, and financial abuse. "And that number doesn't include people who are afraid to report because they live with their abuser or don't understand the abuse because of dementia," added Cantor Josh Perlman of B'nai Israel.
The crucial role of those in faith communities is a unique one. In a recent poll, 50 percent of adults age 60 and older attend religious services weekly. This places faith communities that maintain contact with their older congregants in the perfect position to help prevent and/or intervene earlier in cases of elder abuse. The most important reason for faith community training and awareness, however, has to do with survivors and victims themselves, according to Tovah Kasdin, Director of the ElderSAFE™ Center at Charles E. Smith Life Communities. "For many elder victims (particularly older women and women in underserved communities) faith is a critical resource, a pillar of identity and community, and an essential element in decision-making and healing," said Kasdin. "They know and trust faith community leaders and members."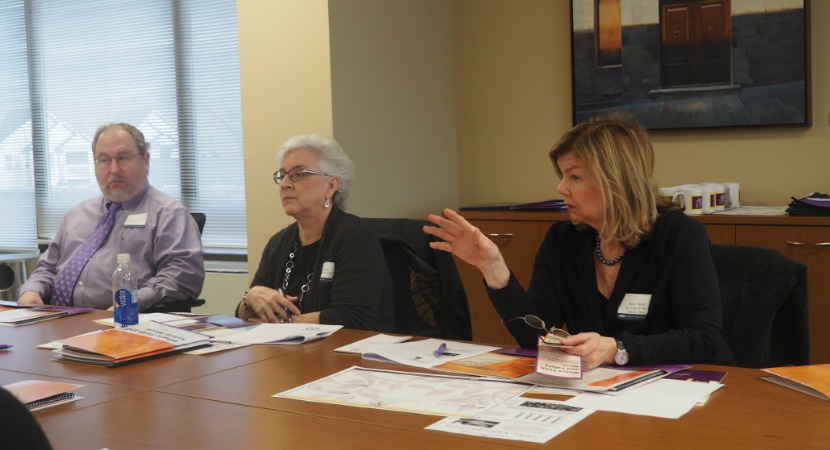 The year-long project will incorporate a second live training for faith and lay leaders and ongoing technical assistance and support, to help congregations work effectively in recognizing elder abuse signs and appropriate interventions in their aging faith communities. Alyson Morse Katzman emphasized the importance of the representatives around the table. "This interfaith idea is helping us build a movement. It's not just the Jewish community, or the Catholic community, or the Muslim community," she said. "You are not going to leave as experts – but we hope to send you back to your congregations ready to recognize and respond to elder abuse and refer victims to services."