Across the globe, people are adjusting to social distancing restrictions and isolation at home. These restrictions can have adverse mental health effects, especially for older adults. At Charles E. Smith Life Communities, we are observing National Mental Health Month and want to share ways to stay engaged while we continue social distancing.
Social distancing does not mean we cannot stay connected. Now more than ever, human connection is crucial. Oftentimes, especially for older adults, social isolation can lead to both anxiety and depression. One way to stay connected is to plan virtual visits with your family via Facetime, Skype or Zoom. Fortunately, in the age of technology, we have an array of video calling services to choose from. According to The British Medical Journal, videoconferencing for nursing home residents can lead to reduced subjective feelings of loneliness and pain scores.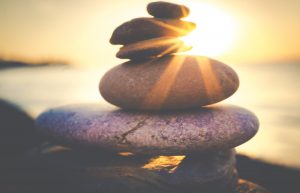 Practicing mindfulness may also reduce anxiety and stress. A Harvard Health article discussing the benefits of mindfulness noted that those who practice it are less likely to get caught up in worrying about the future. Scientific studies have also found that mindfulness techniques are beneficial to physical health. In fact, mindfulness has been found to help relieve stress, treat heart disease, lower blood pressure, reduce chronic pain, improve sleep and alleviate gastrointestinal difficulties.
Physical activity is extremely important for not only physical health but also mental health. Any type of physical activity helps reduce stress, increases energy levels and boost the immune system. This is especially beneficial during this global pandemic and lockdown. There are a wide variety of free online exercise videos that cater to all exercise levels.
Mental activity also benefits emotional well-being, while improving cognitive health. Research has proven that brain-stimulating activities help to boost memory, focus and mental sharpness. These may include reading, jigsaw puzzles, Solitaire, online museum tours, Google Earth National Parks virtual visits or journaling. With many socially isolated hours to fill, such activities additionally help with distraction from negative thoughts, while increasing self-efficacy.
This National Mental Health Awareness Month coincides with one of the most distressing periods in our nation's recent history. To combat the psychological impact of COVID-19, especially on older adults, expanded lifting of restrictions on telehealth services is giving people in need easier access to mental health treatment through technology.
For additional tips about coping with the changes caused by these challenging times, please watch our Facebook Live recording with Dr. Eichberg from April 22, 2020: "Emotional Wellness Considerations: Finding Balance Between Play and Productivity."