The Centers for Disease Control and Prevention (CDC) reports that not only has the 2018-19 flu season started, it is already on the rise and reaching high levels. As we enter the new year, it is more important than ever to ensure that a flu shot tops the list of resolutions. In fact, vaccinations against the flu are the best way to help household and extended family, friends and colleagues from becoming ill. Getting a flu vaccine reinforces Charles E. Smith Life Communities' (CESLC) mission to provide quality care for older adults who are among the most likely to develop more severe flu symptoms and related health complications.
Because every flu season is different (with various circulating strains), an annual flu shot remains one of the best (and simplest) defenses in our healthcare toolbox. Contrary to what you might have heard, the flu shot does not contain a live virus and it does not cause the flu. While it is sometimes possible to contract the flu even if you've been vaccinated (e.g. you may have been exposed before getting a shot), health experts agree that a flu shot is still the best protection we have against the flu.
Fortunately, most pharmacies continue to offer walk-in flu shots for low fees, so it is not too late to get the flu shot if you've not yet been vaccinated. Encourage loved ones to get vaccinated as well; currently, CDC recommends that people ages six months and older get vaccinated. Finally, if you have any questions or concerns about the flu shot, its safety or its effectiveness (as well as what you can expect in terms of any rare side effects) ask your supervisor, physician or pharmacist.
CESLC's 100% commitment
CESLC takes flu season seriously. Every year, we set a goal of 100 percent vaccination among our eligible team members, including nursing, maintenance, housekeeping, rehabilitation therapy and administrative employees. CESLC's annual flu clinics are offered across our campus throughout the months of October through December. Not only does this help keep our residents and staff healthy, but our firm commitment to flu prevention ensures that visitors and guests to our campus have extra defenses against becoming ill.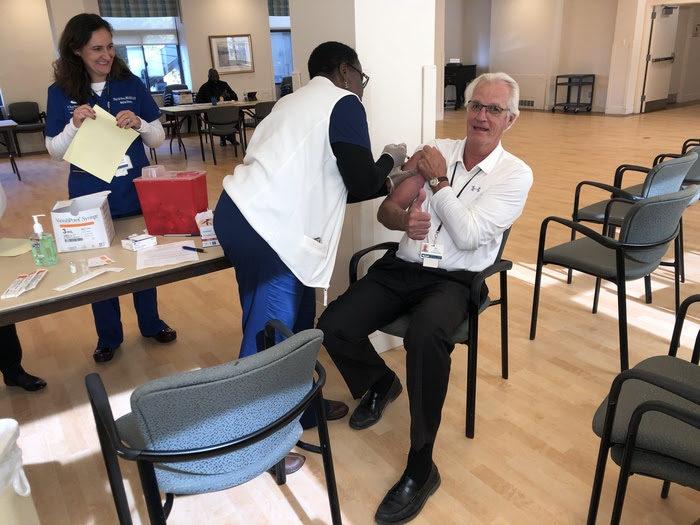 Prevention, prevention, prevention!  
In addition to ensuring that you are vaccinated, follow these steps during flu season:3
Take everyday actions to prevent spreading germs. Avoid contact with others as much as possible if you become ill with the flu. This is especially important for our residents, who have more difficulty fighting off the flu.
Practice good hygiene to reduce your chance of becoming ill (or making others ill). Wash hands frequently with warm water and soap (or an alcohol-based hand rub if neither is readily available).
Use a tissue when sneezing or coughing, discard it immediately after use and rewash your hands to keep circulating flu germs to a minimum.
Avoid touching eyes, nose or mouth; this helps to prevent the spread of germs.
Know the symptoms of the flu. They include fever, cough, sore throat, runny or stuffy nose, body aches, headache, chills and fatigue. Some people (especially children) experience vomiting and diarrhea. Finally, it is possible to be infected with the flu and experience respiratory symptoms without fever.
Should you develop flu-like symptoms, drink plenty of fluids to stay hydrated, and remain home and away from others (except for medical needs) for at least 24 hours after your fever is gone.
Take antiviral drugs as prescribed by your doctor. They can help reduce symptom severity and even reduce the number of days that the flu lingers.
If you suspect that you or a loved one has the flu, follow all precautions, and contact your medical doctor with any questions or concerns.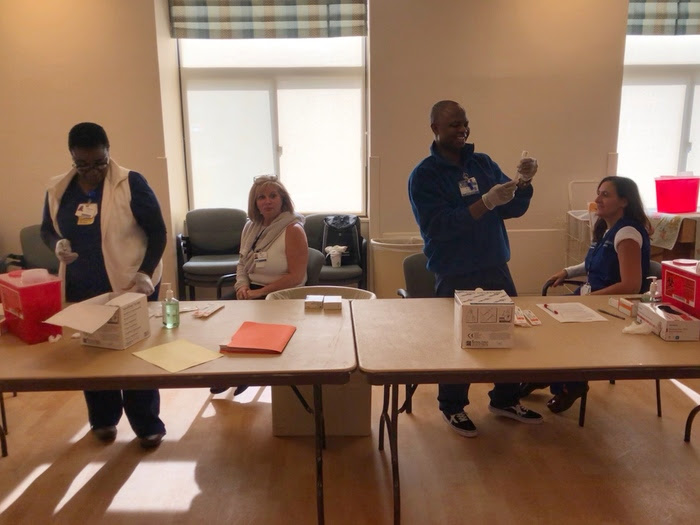 Heal and mend the world (Tikkun Olam), the flu and you!
Tikkun Olam is a CESLC value that is especially important during flu season. Help us continue our commitment to preserve the health and wellness of our community, both on campus and in our surrounding area. CDC reminds us that it only takes three primary steps:
Get a flu shot.
Stop germs from spreading.
See your doctor to determine if you should be taking an antiviral for your flu symptoms.
Last year's flu affected our community and nation in multiple ways. Let's be sure to get on top of flu before it spreads. The best way to honor our shared values of kindness, compassion, caring and respect toward older adults and others at high risk is to get a flu shot.