There is a lot of fear and uncertainty swirling about as we enter the flu season. As an infection preventionist for Charles E. Smith Life Communities, I completely understand. Even before the COVID-19 pandemic, I was responsible for planning and mitigating risks during an outbreak.
There's no denying that our residents are in the high-risk population for developing complications during an outbreak, whether that's COVID-19, the common cold, or the flu. This year, we are paying extra attention to the health and safety of those we serve to both mitigate the risk of coronavirus and the various strains of flu that will emerge.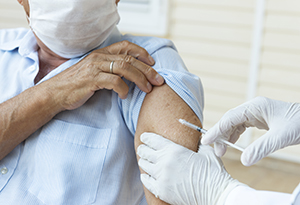 The flu season in the United States occurs in the fall and winter, meaning we are just at the very beginning of the season. Now is the time to get your flu shot. I repeat, now is the time to get your flu shot. While flu cases generally peak between December and February, you don't want to wait until everyone around you is getting sick.
The flu vaccine is carefully designed to contain strains that the CDC has determined will be the most prevalent this year. There are many different strains of flu because the virus mutates constantly. So, yes, it is possible to still get the flu, even if you have had your flu shot, because you may be infected by one of these different strains. However, your symptoms should hopefully be less severe and you may recover faster, thanks to the antibodies you developed from the vaccine.
I know there is a lot of misinformation out there about the flu vaccine, so I'd like to clarify a few things:
No, the flu vaccine will not give you the flu, as it does not contain live viruses.
Yes, you need a flu vaccine every year.
No, the vaccine does not make you more susceptible to other illnesses.
Yes, you may react to the shot, which is normal because your body is working overtime to build antibodies that will protect you moving forward.
No, the vaccine will not make you more susceptible to contracting COVID-19.
Yes, the vaccine is made with eggs, so if you have an egg allergy, I strongly recommend you speak to your doctor before getting a vaccine.
As it states on the CDC website: "Getting a flu vaccine is more important than ever during 2020-2021 to protect yourself, your family and your community from flu. A flu vaccine this season can also help reduce the burden on our healthcare organization responding to the COVID-19 pandemic and save medical resources for the care of COVID-19 patients. September and October are good times to get a flu vaccine."
Many insurance providers offer flu shots at a discounted rate or at no cost. It doesn't cost much or takes much time to protect yourself and those around you, and you can be sure that you're as prepared as possible to maintain good health this flu season. Stay safe, wash your hands and get your flu shot.
Protocols and Plans at CESLC During Flu Season
CESLC is committed to providing complete confidence and peace of mind. L.I.F.E. Solutions is our exclusive program designed to keep those we serve safe, healthy, and engaged.
L stands for lifestyle transition, which begins on the first day our new residents move in. We provide a welcome gift of a mask, hand sanitizer, and touch tool; deep, advanced cleaning of the apartment; require a negative COVID-19 test and a 14-day quarantine; as well a robust transition and engagement process.
I stands for infection control. CESLC is adhering to rigorous sanitation protocols and monitoring everyone who comes into the community. We will provide flu shots for all our residents and team members, and are hosting flu clinics at all our housing residences throughout October so everyone can quickly and easily get vaccinated.
F stands for fresh and clean. CESLC is sanitizing every inch of our community, frequently disinfecting high-touch areas, and dedicating specific team members to health and sanitization. Our residences are supplied with fresh air, not recycled.
E stands for engagement every day. We are first and foremost a community, and keeping those social connections are incredibly important to all of us. While safety and social distancing are important, it's also important to have times together to laugh, converse and engage in favorite hobbies and pastimes.
We continue to monitor the situation and follow recommendations from the CDC and local health officials.