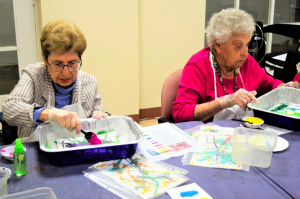 Inspired by the drip paintings of Jackson Pollock, Ring House's "Playful Spirit" art class spurred creative works from residents. Residents who were familiar with Pollock, a leader of the abstract expressionist movement, said they were thrilled to freely express themselves through art.
Carol Dana, creative engagement coordinator at Charles E. Smith Life Communities, led residents through the artistic experience. The residents were engaged with each step of the process. Residents first dropped paint on a canvas using eye droppers, added layers of paint from their own vision and then finalized their Jackson Pollock-inspired piece by rolling a wiffle ball with metallic colors over the layers.
"I see it bringing joy to those who participate. There are a lot of smiles and laughter that emerge as creativity is released," said Dana. "I think the essence of the human being is creative, so when that's coming out on the page, they're feeling fully themselves. What better feeling is there than that?"
According to the American Art Therapy Association, art therapy's encouragement of free self-expression through painting may have a positive effect on improving mental, emotional, and even physical well-being.
"The art activities are exciting and creative. It's a wonderful way to spend time with my neighbors," said Judy S., a participant of the art program.
Art creations from participants are shared publicly in an art show at Ring House, allowing team members, family, and visitors to see their work. The art program offers residents the opportunity to appreciate and connect with someone else, helping to enrich their lives and strengthen the community.