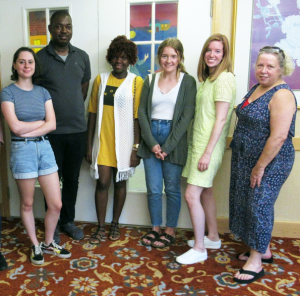 Bobbi Clay is a volunteer coordinator at Montgomery College. This past summer she volunteered along with a group of Montgomery College students at Charles E. Smith Life Communities (CESLC) in the Opening Minds through Art (OMA) program, an award-winning art program that builds connections between older adults and young volunteers. She was inspired to volunteer for the OMA program because of its focus. "It was a no brainer!" she said. "This program combines my two passions, arts and caring for aging adults."
Clay encourages college students to participate in meaningful experiences as volunteers. "Volunteer work is a key part of continuing education," Clay says.
Clay's volunteer work aligns with one of her passions and professional goals, caring for older adults, an interest she discovered at the age of 18 while working as a certified nursing assistant in a nursing home. To achieve her professional goal, she is continuing her education and she is on track to graduate with a bachelor's degree in community health science from Montgomery College. With her degree, she hopes to work in an assisted living facility as a wellness director.  
"Since I loved art and aging adults, everything started coming together for me when I volunteered," Clay says. "I enjoyed the expressive arts program and the cognitive, social and emotional therapeutic benefits I observed with residents. I've always had an affinity for working with the elderly. By giving a piece of yourself, you are giving to and helping someone else. You actually wind up getting more in return."
The interactive and hands-on experience found on the CESLC campus makes the OMA program special. Every time Clay walks through the door and sees a resident smile, she smiles back, knowing how meaningful the program is to them. "When I hear feedback from residents it fills my heart with joy," says Clay. "CESLC is a special place that enriches the lives of all participants — volunteers and residents alike."
To learn more about Nursing Home Volunteers Rockville and other volunteer opportunities visit CESLC. Dedicated members of our community including students fulfilling SSL hours or Mitzvah projects, adults and retirees can explore meaningful opportunities on our campus.