The Teaching Kitchen program at Charles E. Smith Life Communities (CESLC) continues to provide information, entertainment and delicious meals for participating residents. With adjustments for safety and a modified schedule, residents of Ring House can sign up for this popular activity for sessions offered at 11 a.m., 1 p.m., and 3 p.m. every other Tuesday. The sessions are broadcast on Touchtown, the CESLC in-house closed-circuit TV community engagement platform.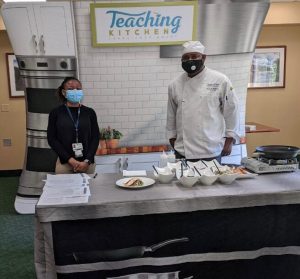 According to Adele Alexis, senior director of Dining Services at Ring House, the Teaching Kitchen is an interactive program that aims to educate about food, nutrition and the cooking process. The program provides each resident with prepared ingredients for a dish, which they learn about and then prepare for themselves. Led by an executive chef and registered dietitian, sessions have printed recipes to make it easier for residents to follow along.
The Teaching Kitchen sessions follow a standard formula. First, the participants receive information about the dish and the ingredients, including the history of the food, nutritional information, and ideas on preparation. Then, the executive chef leads the participants through the actual preparation of the dish in a simple, step-by-step process that each resident can follow to make the dish. Finally, the residents enjoy eating the tasty dish that they have prepared for themselves. Each month features a "super food" that is the staple ingredient for the selected dishes. For example, this July is tomato month, and the first session featured an Italian dish called "bruschetta."
Alexis is pleased with the success of the program. The residents truly enjoy the Teaching Kitchen, and demand is high. "Residents get an opportunity to participate and learn about food and cooking," says Alexis. They appreciate the opportunity to ask questions of the dietitian and try something new. Charlotte "Blu" Berman, a recent participant, thought the experience was sensational. Berman says, "I'd never had a taco ever in my life, and we prepared a taco, and it was absolutely luscious." She enjoyed the presentation, calling it "excellent." Another resident, Dorothy Marder, enjoyed the novelty of making a salad that she had never tried before. "I liked experiencing a new kind of food," she says.
During the COVID-19 pandemic, the usual structure of the program has been modified for safety. The number of participants is limited to 8-10 residents who sit at separate tables placed a safe distance apart. The participants wear disposable aprons, and the entire space is cleaned and sanitized between sessions. Each session is streamed live on the CESLC in-house channel, which allows other residents to follow along on television.
Ring House residents, whether foodies, life-long learners or simply curious, embrace the Teaching Kitchen, as a hands-on, delicious opportunity. Through education and entertainment, residents engage in a culinary adventure that emphasizes learning through participation. For more information about the Ring House residence experience and availability, contact us today.