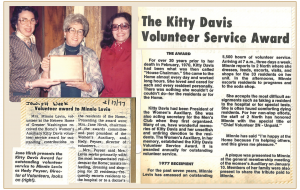 A 1974 Montgomery County Outstanding Volunteer Award recipient, Minnie Levin, z"l, volunteered up to five days a week, often arriving at 6:30 a.m. to assist the nursing team at Hebrew Home of Greater Washington. She logged an astounding 11,430 volunteer hours from 1970 to 1987, with daily work ranging from dressing and feeding to visiting and escorting the 33 residents of Wasserman 2 North.
The residents Levin served benefited immeasurably from her unremitting support. They adored her, and their families regarded her as an integral member of the Hebrew Home team. Dorothy Silverman, daughter of Wasserman resident Jennie Bass, z"l, wrote a letter to Levin in 1978 stating, "I will never be able to thank you enough for all you have done to bring a little happiness and sunshine into my mother's life. I have never met anyone as devoted and dedicated as you." These words of appreciation are echoed today by retired CESLC Director of Volunteers Hedy Peyser, who describes Levin as "compassionate, kind, caring and among the very best of Hebrew Home of Greater Washington volunteers." She describes Levin's relationships with the residents as affectionate and supportive. Levin referred to the residents who she assisted and advocated for as "my people."
What the residents and their families may not have known is the positive impact that volunteering had on Levin herself. "I need them as much as they need me…after a full day of visiting, preparing and serving meals, taking residents to therapy and clinics, and assuring them that I do care and I do love them, I breathe a sigh of relief and experience a very good feeling," she wrote in 1974. After surviving a nearly fatal health crisis, she decided to give her time to Hebrew Home. According to her son, Richard Levine, her volunteer work became her reason for living. "It was all she talked about. Working at Wasserman kept her active and connected. She was on air after helping there," he said.
When her son and his wife Leslie discovered the scrapbook his mother created with over seventy pages of memories and honors from Hebrew Home, they knew right away the most appropriate way to memorialize his mother. They decided on a bequest to CESLC – made to honor Minnie Levin's devotion and dedication – which is intended to benefit future residents. How fitting that, after so many years of Minnie Levin giving her time, energy, love and effort, this bequest made in her memory will further CESLC's mission of providing unparalleled care to our community. "My mother was loving and loved," says Levine. "She would be delighted to know she was again helping the residents at CESLC. I am thrilled to know that this gift will help people in a place that was such an important part of her life."