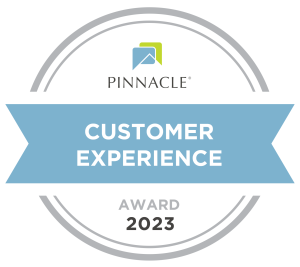 Charles E. Smith Life Communities (CESLC) announced that Pinnacle Quality Insight presented Cohen-Rosen House, one of our memory care residences, with a 2023 Customer Experience Award. Qualifying for the Pinnacle Customer Experience Award means that Cohen-Rosen House placed in the top 15% of care providers nationwide across a 12-month period.
"The team at Cohen-Rosen House is guided by our mission and values," said VP of Operations Brenda L. Rice. "Our associates strive to deliver the highest standards of service and hospitality, and this award recognizes their efforts."
Throughout 2022, CESLC and their families participated in monthly telephone interviews where they answered open-ended questions and rated our residences in multiple categories. The Customer Experience Award is awarded to care providers who have achieved best-in-class customer satisfaction standards within their peer group.
"We are grateful for the positive feedback that we received from the families who participated in the surveys," said Cohen-Rosen Manager Kaye Edwards-Lewis. "We are honored by the award and cherish the opportunity to serve Cohen-Rosen House residents and their loved ones."
ABOUT CESLC:
Founded in 1910, Charles E. Smith Life Communities is a nonprofit organization serving more than 1,100 older adults in multiple residences situated on a 38-acre campus in Rockville, Maryland. CESLC's services include post-acute care and long-term skilled nursing care at Hebrew Home of Greater Washington; independent living at Revitz House and Ring House; assisted living at Landow House; memory care at Cohen-Rosen House; geriatric medical care at Hirsh Health Center; and temporary shelter and advocacy for victims of elder abuse at ElderSAFE™ Center. For more information, visit www.smithlifecommunities.org.