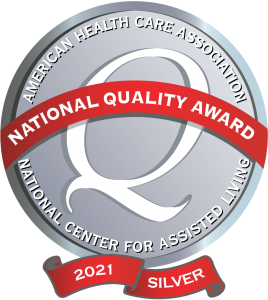 Charles E. Smith Life Communities (CESLC) is pleased to announce that Landow House and Cohen-Rosen House, its assisted living residences, have been recognized as 2021 Silver – Achievement in Quality Award recipients by the American Health Care Association and National Center for Assisted Living (AHCA/NCAL). The award is the second level of three distinctions possible through the AHCA/NCAL National Quality Award Program, which spotlights providers across the nation that have demonstrated their dedication to improving quality of care for residents and individuals with disabilities in long-term and post-acute care.
Landow House and Cohen-Rosen House are the only 2021 Silver Quality Award recipients in the state of Maryland. At the Silver level, recipients develop and demonstrate effective approaches that help improve organizational performance and health care outcomes.
"We are guided by our mission to deliver quality care and meaningful life experiences to older adults, with dignity and compassion," said CESLC Vice President of Operations Brenda L. Rice. "This award acknowledges our team's continued commitment to deliver the highest quality care to the older adults that we serve in our community every day."
Created by AHCA/NCAL in 1996, the National Quality Award Program is a rigorous three-level process that is reviewed and judged by trained experts against a set of nationally recognized standards for organizational excellence. The standards of the Baldrige Performance Excellence Program help organizations achieve superior performance to improve quality of life and care of long term care residents and staff.
The awards will be presented during AHCA/NCAL's 72nd Convention & Expo held from October 10-13, 2021.
###
ABOUT CESLC
Founded in 1910, Charles E. Smith Life Communities (CESLC) is a nonprofit organization serving more than 1,100 older adults daily in multiple residences situated on a 38-acre campus in Rockville, Maryland. CESLC's services include post-acute care and long-term skilled nursing care at Hebrew Home of Greater Washington; independent living at Revitz House and Ring House; assisted living at Landow House; memory care at Cohen-Rosen House; geriatric medical care at Hirsh Health Center; and temporary shelter and advocacy for victims of elder abuse at the ElderSAFE™ Center. For more information, please visit www.smithlifecommunities.org.