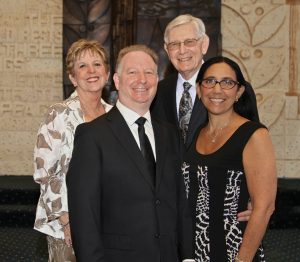 When Brenda Hurwitz Guritzky, z"l passed away in 2017, she left a generous legacy gift to Charles E. Smith Life Communities (CESLC). "The teachings of Judaism at the most basic level are to help others," says Ron Guritzky, Brenda's son. "Judaism teaches you to look after your parents and respect them, and we bring those teachings to this century by supporting organizations like this one."
Brenda's gift embodies her family's legacy of continuing education and aiding others in need. "My mother was a very intelligent woman and she believed in education and people learning and striving to be the best," says Brenda's daughter Dana Guritzky Mandelbaum. Brenda's gift will support professional and leadership development programs throughout the organization, including sessions with thought leaders. These leadership development sessions will focus on the C-Suite members to first-line supervisors. The training made possible by Brenda's gift will help ensure that we continue to strengthen the skills of CESLC team members and provide the best care and service to residents and their families.
The Guritzky's commitment to CESLC is deep and long-standing. Brenda, the first woman president and first second-generation president (1991 to 1993), followed in the footsteps of her father, George H. Hurwitz, who served as president of Hebrew Home of Greater Washington. Her husband, Sandy, served as a trustee, and both he and Ron served on CESLC's Board of Directors. Sandy, Ron and Dana, now living in Florida, remain active in multiple Jewish organizations continuing a family tradition.