You don't want a sofa that strains your back or a chair that wobbles when you get up. You need to know the furniture options that will be the best choice for your needs.
Knowing the different characteristics of what makes the best furniture for seniors will help you choose furniture that will give you the comfort and support you need.
Best Furniture Characteristics for Older Adults
While there's a wide-ranging selection of furniture that will look fantastic in your living room, you'll want to make sure it's functional. Keep these safe furniture characteristics in mind when you're looking for furniture.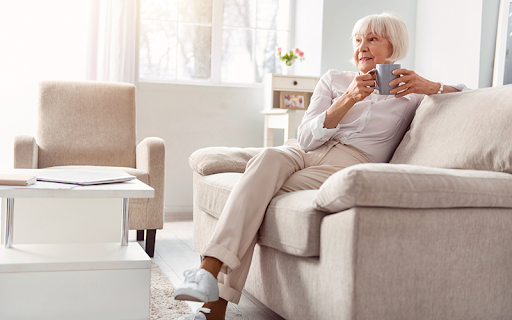 Height
There are two aspects of height to look for in furniture. First is the height of the seat. Whether it's a sofa or chair, you want the height to be high off the ground. Lower seats can make sitting and standing difficult.
You also want the back of the furniture to be high as well. This will provide back and neck support. If the furniture only reaches your lower back, you won't have the support you need to sit up comfortably.
Stability
When you're rising from or sitting down on furniture, you may use the furniture for support. You'll want to make sure your furniture is stable and doesn't move when you're imbalanced. Opting for static furniture that doesn't move as opposed to pieces like swivel chairs and push-back recliners can give you the support you need.
There are also options for those who love recliners but have trouble with moving the footrest down so they can get out of the chair safely. Lift chairs have a motor that moves the chair forward to aid the person in getting out of the chair with ease.
Firmness
Firm seat cushions will provide support that will aid you in standing up from the furniture. Looking for high density foam cushions may help you find the right furniture that will prevent you from sinking into the cushions and make standing easier.
Depth
Depth refers to how far the front of the cushion is from the back of the furniture. Oversized furniture tends to have larger cushions that create a lot of space that may look cozy but makes sitting and standing challenging to do comfortably.
Uncluttered
When your sofa is covered in extra throws and decorative pillows, you may have to spend time removing items from your sofa so you have room to sit down. After you get up, you have to bend down to put everything back on the sofa again. This repeated motion can hurt your back, causing strain and discomfort.
If you have a cluttered sofa, you may stop using it because you know how much work it is to remove the pillows and put them back. Keeping your sofa clear for functional use will mean you can sit easily and get plenty of use out of your sofa.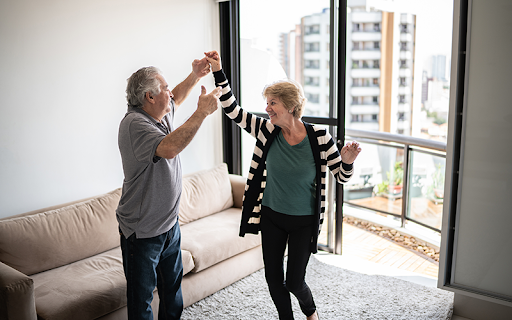 What Other Safety Precautions Should Your Senior Apartment Have?
Being able to sit and stand safely is one of the major concerns when selecting furniture, but there are other safety concerns older adults should be aware of in their apartments.
Non-slip rugs. Rugs that slip can be a major safety issue and cause people to fall. Having non-slip rugs ensures you can depend on your rug to stay firmly in place. Other rugs may not be non-slip, but you can secure them to the floor with carpet anchors.
Clear pathways. Make sure your hallways, floors, and main walkways are clear of clutter and electrical cords so you can easily navigate your home without fear of tripping hazards.
Reaching. Your possessions should all be reachable without straining yourself. This means avoiding high shelves and low storage areas. When your furniture and possessions are at chest and waist level, you never have to worry about how you're going to reach something you need.
Visibility. When you're walking in your house, and it's dark, nightlights can help you safely get to your destination. These can be battery-operated candles, nightlights that plug into the outlet, or any other light source that works for you. If you don't want to worry about changing batteries or turning lights off in the morning, consider motion-activated lights.
Taking these safety precautions will help you feel more safe and secure in your residence.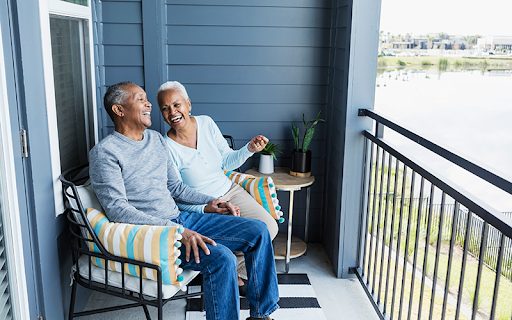 Safety at Charles E. Smith Life Communities
Residents of Charles E. Smith Life Communities have peace of mind because they're in a supportive and compassionate community. The different levels of care all accommodate residents' needs to feel comfortable and right at home.
Charles E. Smith Life Communities implements best practices in common areas so all residents are safe.
For example, the chairs in common areas have the following:
Higher, straighter seats make it easier for residents to sit and stand
Wide armrests residents can grip when sitting down or standing up
Solid wood frame to support residents as they move up or forward
Optional wheels and casters allow the chair to move easily for staff assistance to aid in sitting or standing
Charles E. Smith Communities applies this acute attention to detail in every aspect of the community. We ensure residents have everything they need to thrive.
Visit Charles E. Smith Life Communities
Charles E. Smith Life Communities hosts events full of information that helps older adults make the transition to senior living. This is a great way to connect with others and ask questions so you have the information about senior living that you need.
When you're getting ready to make the move to senior living, Charles E. Smith Life Communities is here to make the transition easier. Contact us to learn more about our variety of residence options.