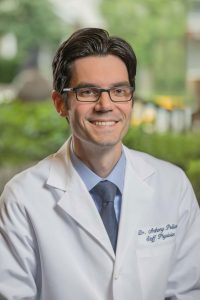 Charles E. Smith Life Communities (CESLC), announced Dr. Anthony J. Pellicane, M.D. as Post-Acute Care Center rehabilitation director. He will lead post-acute care units and team members while focusing on reducing the number of post-acute care patients readmitted to the hospital.
"This role represents a connection between the different disciplines at Hebrew Home of Greater Washington," said Pellicane. "My goal is to facilitate the improvement of our processes in order to continue to improve the patient experience."
Since joining CESLC in 2014, Pellicane has been a catalyst for refining policy and procedure in the center. His contributions have been recognized numerous times among his peers at CESLC.
"With the rapidly changing nature of our field, Pellicane's exceptional knowledge and work performance over the years demonstrates his aptitude to direct the current and future direction of our Post-Acute care services," said CESLC's Vice President of Medical Affairs and Medical Director Elisa Gil-Pires, M.D., FACP, CMD.
Pellicane's passion for medicine began at an early age. "I remember as a young boy, my favorite G.I. Joe was the medic. I liked that he wanted to help others. I think my interest in fixing things and caring for people was always there." According to him, his mother's research in anatomy and his grandfather's work in traumatic brain injury fostered his deeper investment in medicine.
"As part of the medical team at CESLC, I have the opportunity to deliver care that encompasses the mission and values that guide our organization," said Pellicane. "Our teams are constantly striving to provide an optimal experience for our patients, which makes my job extremely fulfilling."
Pellicane has an undergraduate degree in cognitive science from the University of Virginia and a medical doctorate from Virginia Commonwealth University's School of Medicine. He is board certified in physical medicine and rehabilitation.