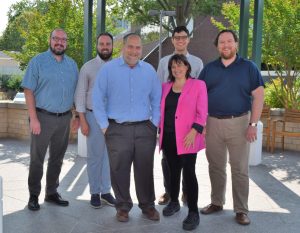 CESLC's Clinical Pastoral Education (CPE) program attracts professionals looking to expand their experience in pastoral care. The program is currently the only Jewish CPE in the Washington, D.C., area and one of only a few regional programs focused on long-term care. We were thrilled to have hosted the following interns this summer:
Renana Brooks is in her third year of rabbinical studies at the Academy of Jewish Religion and serves as a lay leader in her home congregation of Fabrengen and Tifereth Israel. A graduate of Barnard College, she holds a Ph.D. in clinical psychology from George Washington University and served on the clinical faculty of Harvard Medical.
Jared Moore has integrated spiritual practices with beekeeping as he studies to become an Episcopal priest at Virginia Theological Seminary. He and his wife moved to Virginia in 2021. Prior to that, he served as a pastor and church planner for 15 years in Colorado and Missouri.
Matt Overturf is a postulant with the Episcopal Diocese of East Carolina and a rising senior at Virginia Theological Seminary. He discerned his call to ordained ministry while teaching at Fayetteville Technical Community College in North Carolina. Active in theater, he holds a bachelor's degree in the field from Southwest Baptist University and earned a master's in communication studies from Arkansas State University.
Hayden Paul is a third-year student at Virginia Theological Seminary, where he serves as student body president. He spent five years as a district representative in the Texas state legislature. The Texas A&M University graduate then served as vice president of public affairs and government relations for a regional economic development corporation.
Daniel Peled-Schwartz has studied at Yeshivot Birkat Moshe, Har Etzion and Chovevei Torah and is pursuing rabbinic ordination and a master's degree in Jewish philosophy from Yeshiva University. The Boston-area native studied philosophy at Princeton University and then taught Judaic studies at Berman Hebrew Academy in Rockville.