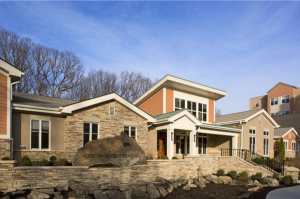 When President Ronald Reagan designated November as National Alzheimer's Awareness Month in 1983, about 2 million Americans had the disease. Today 5.7 million Americans contend with Alzheimer's. By 2050, that number may have more than doubled again to as many as 13.8 million. To meet the growing need, an increasing number of senior living and long-term care centers like Charles E. Smith Life Communities (CESLC) in Rockville, Maryland have developed special memory care residences for people with Alzheimer's and other dementias.
CESLC's Cohen-Rosen House is a nationally-recognized memory care residence in Montgomery County organized around criteria recommended by the National Alzheimer's Association. The residence combines an innovative setting with a family-style approach to help residents maintain a meaningful and enjoyable way of life. The team at Cohen-Rosen House is trained and skilled in Alzheimer's care and memory care. They understand the progression of the disease, how to handle the changing moods and behavior a person with Alzheimer's experiences, how to help keep stress levels low, and how to avoid some of the natural, intuitive actions that actually escalate stress for a person with Alzheimer's.
Caregivers at Cohen-Rosen House are all Life Skills Assistants. Everyone knows how to help with dressing, grooming, toileting, housekeeping, recreation, and dining. Physicians make house visits and nurses and nursing assistants are close by at all times. Cohen-Rosen residents receive consistent professional healthcare on campus at Hebrew Home of Greater Washington (HHGW), the largest and most experienced nursing home in Montgomery County. Residents have access to physical, occupational, and speech therapy.
Just as importantly, CESLC offers people with Alzheimer's appropriate and engaging activities that are physically, mentally and emotionally stimulating. Religious services and celebrations are available. Each daily planned experience helps maintain important connections in life—family and friends, faith and values, caregivers and neighbors, the natural environment, comfort and security. This is essential to honoring elders, a central value at CESLC.
The Alzheimer's Association provides a checklist of what to look for in a long-term care residence for people with memory problems. The list makes it easy to interview the people who work at a residence and recognize a good one while visiting. In addition to the services described at Cohen-Rosen House, they recommend these criteria.
Families should be encouraged to communicate with caregivers and should be informed of changes in a resident's status and care needs.
Residents should seem comfortable, relaxed, well-groomed, dressed appropriately and involved in activities.
Staff should be able to personalize care to fit an individual's specific needs, abilities and interests.
The physical environment must be safe, secure and monitored but allow for freedom of movement and independence within.
Transportation should be available for medical appointments and shopping for personal items.
A more detailed version of the Alzheimer's Association checklist is available here.
There is currently no cure for Alzheimer's disease. Medications and other therapies, however, can delay the progression and increase the person's quality of life. It is important for older adults at risk for Alzheimer's to be screened early for symptoms so that they can begin treatment early. Best of all, early diagnosis allows an older adult to participate in planning for their own future long-term care, to make their own choices and speak their own minds.