The US Department of Health and Human Services (HHS) defines long-term care as a range of services and supports a person may need to meet their personal care. According to the Federal Long-Term Care Insurance Program (FLTCIP), 70 percent of people turning age 65 will need some form of long-term care.
Here are a few tips for aging well:
Begin Planning Early
Long-term care requires planning and preparation. It's best to start while the older adult is able to participate in the discussion. Clarify if the older person wants to consider a variety of residential options including care in the home, assisted living centers, care homes or continuing care retirement communities.
Visit Potential Residences
There are many considerations when choosing your new home. The process may seem overwhelming, but with the right questions and support, the process is manageable. To help, Harvard Medical School provides a list of questions to ask when visiting a senior community. One of the first questions to ask is the level of care available. All three cited by Harvard—skilled nursing, assisted living, and independent living—are available at CESLC.
Locate Medical Care Nearby
A long-term senior residence should provide immediate access to the medical care the person needs. Medical services should be available around the clock. CESLC, for example, provides full-time staff physicians who are available to make home visits to assisted living and memory care residents. Physical, occupational and speech therapy services are available on-site at the residences, and short-term acute care is provided on campus at Hebrew Home of Greater Washington (HHGW).
Assess Social and Intellectual Engagement
Staff at a senior residence should help and encourage older adults to maintain the most physically active and mentally challenging lifestyle that they can. For example at Landow House Assisted Living Apartments, CESLC provides not only assisted daily living but also social and intellectual engagement through communal dining, art and music programs on-site and off-site excursions. Cohen-Rosen House provides similar engagement and community activities for residents living with Alzheimer's disease or other memory impairments. HHGW offers residents recreational therapy programs and spiritual services as well as 24-hour care.
Choose a Residence That the Older Adult Feels at Home In
According to Harvard Medical School and other advocates for seniors, a senior living center should feel like a home and foster a sense of community. There should be ample opportunities to engage socially with others, even in skilled nursing. Family and friends should be welcome to visit and treated in a friendly manner. A visit and interview to a residence can give an older adult a good sense of how they will feel living there.
Look for Safety Features
Whatever type of residence an older adult may choose, including their own home, the safety requirements are the same. Check for smoke detectors, secure, well-lit entrances and exits, well-lit, obstacle-free hallways and rooms, handrails in the hallways and on both sides of any stairways and slip-resistant materials in showers and under rugs. Ask the staff at each community you visit about the safety and security features. Their responses and their willingness to talk may help determine if you or your loved one would feel comfortable living in that community.
Arrange the Finances
HHS warns that far too many people believe their care will be covered by insurance or government funding. However, Medicare covers only the first 100 days of skilled care in a nursing home following a hospital stay of at least three days. The same is true of most health insurance plans; they are not intended to pay for ongoing, chronic care. Even considerable life savings can be swallowed by care that may cost $32,000 to $92,000 a year, according to the FLTCIP.
Instead, speak with your insurance company about long-term care insurance. Some companies offer packages that include both long-term care and life insurance, and some life insurance policies can be leveraged to cover care under certain conditions. Annuities and reverse mortgages are other options for covering long-term support.
Feel Free to Call Us
CESLC offers comprehensive long-term care in Rockville, MD serving the Washington Metropolitan area. Ring House and Revitz House independent living apartments provide on-site physician care, personal amenities and leisure programming. Landow House assisted living apartments of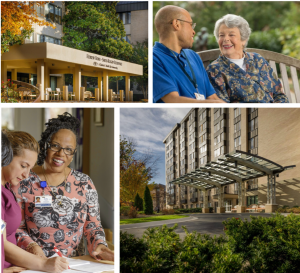 fer assisted daily living and on-site healthcare as well as leisure programming and accessible transportation off-campus. Cohen-Rosen House provides a safe, serene, and caring home with private accommodations and creative programming for individuals living with memory impairments. Please feel free to call us at 301-770-8448 or use our contact form here to schedule a visit.