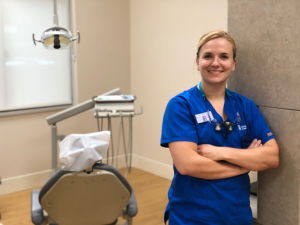 "My experience at CESLC taught me a different approach from general dentistry," says Katie Bell, a University of Maryland School of Dentistry (UMSOD) student who participated in a dentistry externship at Hebrew Home of Greater Washington (HHGW). "You learn to be flexible in different ways."
During their externship, UMSOD students participate in two-week rotations at HHGW that include, not only dental care but speech therapy, wound care and nursing care. Part of the externship includes observing physicians in other disciplines and gaining first-hand experience by working directly with older adults. The students are supervised by Charles A. Doring, D.D.S., a clinical instructor on the Dean's Faculty at UMSOD and a volunteer at the dental clinic at HHGW.
Innovation & Education 
The dental externship at HHGW is only one of several training opportunities available at Charles E. Smith Life Communities. CESLC also collaborates with the National Institutes of Health on a Hospice and Palliative Medicine Fellowship, which teaches a holistic approach to palliative medicine and long-term hospice care.
The dentistry externship gives students from UMSOD's top-tier dentistry program the benefit of CESLC's comprehensive experience in geriatric health care. Students have the opportunity to work with mobile dentistry equipment and innovative techniques.
"I've been able to use Silver Diamine Fluoride (SDF) which is a new wave of dentistry in the geriatric population that I didn't know about before," Bell says, impressed with innovative techniques available at HHGW. "It's just recently become more commonly used in private practices. It is very helpful in an environment like this."
Bell enjoyed working with medical professionals in other disciplines as well. For example, working with a speech therapist, she learned about swallowing issues and how to recognize them.
Bell says she found the learning environment at CESLC welcoming and informative. She appreciates CESLC's person-centered approach to care. "I liked this externship and working as a dentist because it's hands on. The patient interaction aspect was great."
We look forward to welcoming our next student rotation. They bring a smile to our campus.