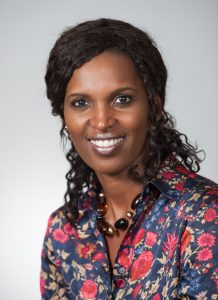 Pauline Muoneke has been a nurse practitioner for six years at Charles E. Smith Life Communities. "I am fortunate to have the opportunity at work to do what I love the most: consult, diagnose, treat and prescribe," says Muoneke. She finds reward in how candidly patients express their gratitude for her help when they cross paths on campus. Muoneke works at Hirsh Health Center where our medical team specializes in primary geriatric care for residents of CESLC and the surrounding area.
What is the most rewarding part of your work at CESLC?
Working with an extraordinary medical team, dedicated nurses and team members, who focus on providing outstanding patient care, is most rewarding.
What brings the most meaning to your job?
Consulting with my patients means a lot in my job. Putting a smile on their faces by figuring out how I can use my expertise to help makes the contribution meaningful. The process of diagnosing, providing adequate treatment and watching them improve to make progress daily gives me a sense satisfaction and fulfillment.
What do you love most about your team at CESLC?
The team here is just awesome. I love the team spirit, the support, dedication, reliability, selflessness, accountability, efficiency and commitment!
To meet our nurse practitioner, call 301-816-5004 and make an appointment.