At Charles E. Smith Life Communities (CESLC), we believe that taste matters. Our on-site dietitians collaborate with our chefs to design healthy, kosher menus that delight the senses and meet residents' needs. For CESLC's Executive Chef Frank Clyatt, it's important to engage residents as they learn about the culinary process. There's no better way to do that than with a tasting. That's why our dining services team holds The Teaching Kitchen, an interactive program dedicated to teaching residents about all aspects of food and taste. The campus-wide initiative encourages residents to engage with their palate through informational tastings.
"It's good to help them learn and enjoy all aspects of food and taste," said Clinical Nutrition Manager at Hebrew Home of Greater Washington Marilyn Bobbin.
On March 19, 2018, The Teaching Kitchen hosted a tasting session at Wasserman Residence, where residents learned the five basic sensations of taste. Not only did they sample each one, but they also discussed the creation of flavor through combinations of smell, touch, and sound.
"He gave us a lot of samples of food to try," said Oscar Reveron, a resident at Hebrew Home of Greater Washington. "It was fun and we learned a lot about food and taste and their history."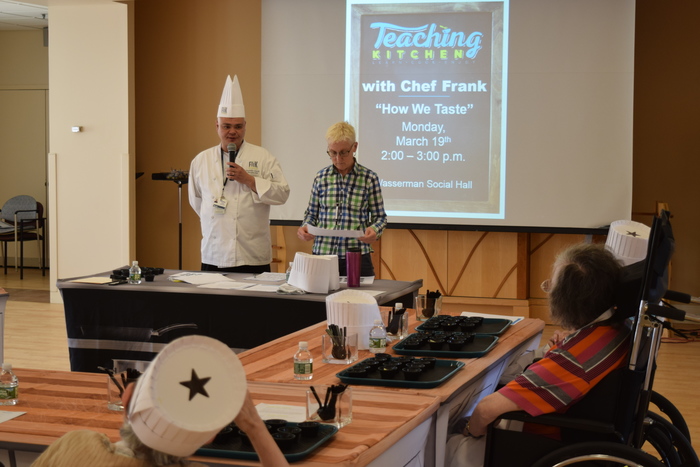 Executive Chef Frank Clyatt kicks off the first tasting at Wasserman Residence.
The program has visited other residences, including Smith-Kogod Residence, Landow House, and Ring House. Using his extensive experience working in retirement communities and 20 years of experience in the culinary arts, Clyatt's strives to bring the program to every residence on campus every month.
"It's also not just for them, but for me as well," said Clyatt. "I love the residents here and this allows me to spend some quality time with them."