The decision to move yourself or a loved one into an assisted living residence because of advancing needs should not be taken lightly. With the many existing options for assisted living, it is important to understand what to look for, what standards to expect and what questions to ask. At Charles E. Smith Life Communities (CESLC), we want to make sure interested individuals have all the necessary facts and considerations to make an informed decision. The following information provides a guide to the issues and concerns that moving into assisted living can raise.
What is assisted living?
A recent AARP article defined assisted living as a residence "designed for older people who are no longer able to manage living independently and need help with daily activities such as bathing or dressing, but don't require the round-the-clock health care that a nursing home would provide." The state of Maryland defines an assisted living program as "a residential or facility-based program that provides housing and supportive services, supervision, personalized assistance, health-related services, or a combination thereof to meet the needs of residents who are unable to perform, or who need assistance with [activities of daily living]."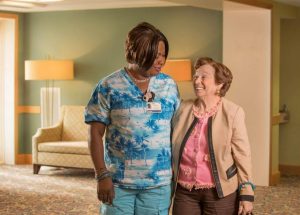 Among CESLC communities, the Landow House assisted living apartments offer a range of excellent attention and amenities that make for a comfortable, secure and supportive environment.
How to find the right place?
There is so much more than the basic requirements of an assisted living facility that you should expect. The National Institute on Aging, one of the National Institutes of Health, notes that quality locations offer residents private living and shared common areas. Assisted living should offer three meals a day dining; assistance with personal care; help with medications, housekeeping, and laundry; 24-hour supervision, security, and on-site staff. A good facility will include activities for entertainment and wellness, such as exercise, excursions and just plain fun.
It's important to carefully evaluate the quality of these services. AARP recommends more than one visit to the location to assess the situation, ask questions and get educated about the offerings. Among the many questions you should ask are:
What are the size and types of units available?
Do any units have kitchens or kitchenettes?
Are all the rooms private?
Are bathrooms private?
Is special care available for residents with Alzheimer's disease or other conditions?
Does each resident have a written care plan, and who is the person involved in creating it?
Is a contract available that details fees, services and admission and discharge policies?
Are additional services available if a resident's needs change?
Some additional questions suggested by US News and World Report are:
What types of training does your staff have?
How many patients per staff member?
Can the facility continue to provide support as health and needs change?
Is the community of residents a good fit?
Does the location have community resources and shopping nearby?
Does the facility offer substantial social activities? Spiritual ones?
Landow House is a premier assisted living residence, offering excellent living arrangements and extensive support services to its residents. Landow House offers four types of one and two-bedroom assisted living units. Each unit is private and comes with a kitchenette, private bathroom, and common space. In cooperation with the resident, the highly trained staff conducts a comprehensive assessment and creates a living plan for each resident that includes attending to activities of daily living, medical, and other specific needs of the resident. Landow House provides dining three meals a day, and a range of activities intended to engage, entertain and care for the needs of its residents. Located in Rockville, residents are provided transportation to nearby shopping and entertainment as well as outings in the greater Washington area.
Don't select sight unseen.
The experts agree that you should make multiple visits to each assisted living home being considered before making a choice. On the visits, expect a tour of the facility, a chance to view the residential units and the opportunity to chat with the staff. Look for important factors like cleanliness, lighting and a range of amenities. To truly get a sense of the space, visit at different times during the day, eat a meal with the residents and observe the activities.
When making an important transition for yourself or your loved one, information, education and experience each help make certain that the choice is the right one. We welcome inquiries about assisted living at Landow House or our other senior living residences. Please contact us today for a tour.