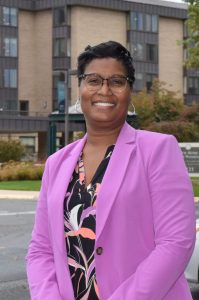 Le'Shawn Bailey joins Charles E. Smith Life Communities as executive director of Hebrew Home of Greater Washington where she will oversee operations of our flagship skilled nursing center which includes long-term care and post-acute care.
"It's my pleasure to welcome Le'Shawn to the organization," said CESLC VP of Operations Brenda L. Rice. "She brings valuable experience to CESLC and I am confident she will contribute to our mission."
With over 25 years of combined experience in long-term and ambulatory care, Bailey comes to us from SAVA Senior Care, one of the largest providers of skilled nursing, memory care, and rehabilitative services in the nation, where she served as executive director of the Glen Burnie Health and Rehabilitation Center.
Prior to SAVA, she held several management positions at Genesis Healthcare, including executive director of the Fairland Center, director of dining services at Homewood Center and Caton Manor Facilities, and senior administrative manager at Genesis Healthcare Union Building.
"I am looking forward to working with the highly committed and trained team at Hebrew Home of Greater Washington," said Bailey. "And to building meaningful relationships with residents and their loved ones."
Bailey received her MBA, MPH, and bachelor's degrees from the University of Phoenix.