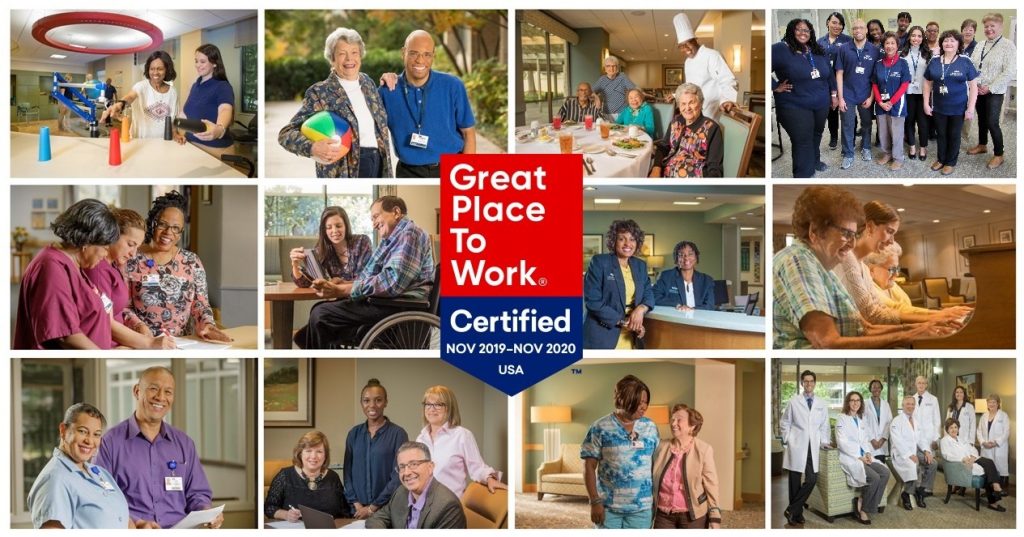 Charles E. Smith Life Communities (CESLC) announces its certification as a Great Place to Work in senior care by the Great Place to Work Institute. The certification process considered feedback offered by employees through surveys across campus. Great Place to Work, an independent research and consulting firm, evaluated more than 60 elements of team members' experience on the job. These included employee pride in the organization's community impact, belief that their work makes a difference, and feeling their work has special meaning. Rankings are based on employees' experiences, no matter who they are or what they do.
"We are honored by this recognition from Great Places to Work," said VP of Human Resources Melissa Kammer. "This affirms our commitment to creating an employee centric culture where every voice matters."
"We applaud CESLC for seeking certification and releasing its employees' feedback," said Dr. Jacquelyn Kung, of Great Place to Work's senior care affiliate Activated Insights. "These ratings measure its capacity to earn its own employees' trust and create a great workplace for high performance."
About Charles E. Smith Life Communities:
Founded in 1910 as the Hebrew Home for the Aged, Charles E. Smith Life Communities (CESLC) is a nonprofit organization serving more than 1,100 older adults daily in multiple residences situated on a 38-acre campus in Rockville, Maryland. CESLC's services include: skilled nursing care at Wasserman and Smith-Kogod Residences and Post-Acute Care Center at Hebrew Home of Greater Washington; independent living at Revitz House and Ring House; assisted living at Landow House; memory care assisted living at Cohen-Rosen House; geriatric medical care at Hirsh Health Center; and temporary shelter and advocacy for victims of elder abuse at the ElderSAFE™ Center.
For more information, please visit www.smithlifecommunities.org