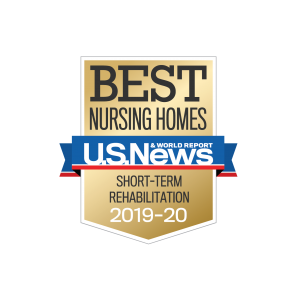 Post-Acute Care Center at Hebrew Home of Greater Washington (HHGW) earned Best Nursing Home status by achieving a rating of "High Performing," the highest possible rating, for Short-Term Rehabilitation. U.S. News gives the designation of Best Nursing Home only to those homes that satisfy U.S. News's assessment of the appropriate use of key services and consistent performance in quality measures.
"Our team at the Post-Acute Care Center at Hebrew Home of Greater Washington strives to provide quality services to older adults in our community and to deliver optimal care for patient recovery," said HHGW Administrator Brenda Rice. "We are honored and humbled by this recognition of our dedication to excellence in care."
Now in its 10th year, the U.S. News Best Nursing Homes ratings and profiles offer comprehensive information about care, safety, health inspections, staffing and more for nearly all of the nation's 15,000-plus nursing homes. The Best Nursing Homes ratings reflect U.S. News' exclusive analysis of publicly available data using a methodology defined by U.S. News that evaluates factors that it has determined most greatly impact patient and resident care, safety, and outcomes.
"Our Post-Acute Care Center team is proud to be recognized for our commitment to delivering quality services to older adults in our community," said Dr. Anthony J. Pellicane, Post-Acute Care Center rehabilitation director. "Our team of physicians, nurses, geriatric nursing assistants, social workers and all our support personnel, together provides the high standards and thoughtful approach to care that allows our organization to receive this distinction."
U.S. News assesses the performance of nursing homes in the care they provide to patients staying in a residence for fewer than 100 days. The quality measures included in this year's ratings include consistency of registered nurse staffing, use of antipsychotic drugs, and success in preventing falls.
For more information behind U.S. News ratings please refer to their FAQ.
About Charles E. Smith Life Communities:
Founded in 1910 as the Hebrew Home for the Aged, Charles E. Smith Life Communities (CESLC) is a nonprofit organization serving more than 1,100 older adults daily in multiple residences situated on a 38-acre campus in Rockville, Maryland. CESLC's services include: skilled nursing care at Wasserman and Smith-Kogod Residences and Post-Acute Care Center at Hebrew Home of Greater Washington; independent living at Revitz House and Ring House; assisted living at Landow House; memory care assisted living at Cohen-Rosen House; geriatric medical care at Hirsh Health Center; and temporary shelter and advocacy for victims of elder abuse at the ElderSAFE™ Center. For more information, please visit www.smithlifecommunities.org